The Gentle Art is pleased to announce the return of our Automatic "Loose Feathers" Order Program.
The latest "Loose Feathers" pattern uses the following colors: Apple Cider, Avocado, Dried Thyme, Mountain Mist, Mustard Seed, Woodrose, and Heirloom Gold.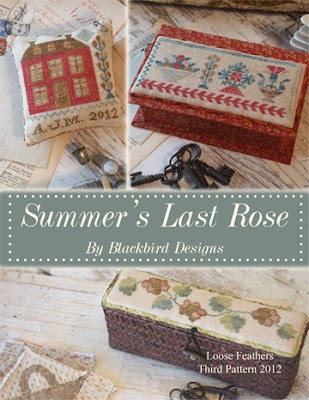 Summer's Last Rose is the third Loose Feathers pattern for the year 2012. The pattern and linen is available through Norden Crafts and they are shipping today. The medium sized book box shown above right was covered with fabric. All instructions are in the pattern. The box is the medium size from Hobby Lobby. sku# 379727 – Medium – 5″ x 2″ x 7 1/2″.
The basket pictured along the bottom of the pattern is also from Hobby Lobby. (Dark brown small rectangular basket, sku#177733 – 9 1/2″ x 3″ x 3 5/8″.)
We are releasing the thread today so please call us at 614-855-8346 to order if you are not on loose feathers program (or if you are not sure).
>>> "Loose Feathers" Design Automatic Pre-Order Form – Click Here
September 28, 2012
Latest Christmas design by Blackbird Designs.
According to Blackbird Designs blog, "Barb loves to hang her Christmas samplers year round in her home.
She enjoys holiday cheer all through the year. Even though this piece expresses a sentiment we love to share with our family and friends, the message is subtle.
The colors are so joyful that no one will notice that this holiday decoration has not been packed away!"
They feature the following colors: Avocado, Baby Spinach, Chamomile, Dried Thyme, Dungarees, Faded Rose, Hyacinth, Lambswool, Red Grape, and Rose Garden.